Applications


ICM within a Learning Programme

What can be done when the members of one department in a business feel unable to challenge another?

When there seems to be a lack of common ground for discussion, despite there being a common overall goal?

Or when you are advised "I want you to train Ops to win arguments with Marketing"?!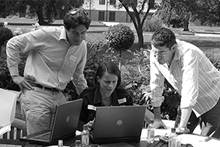 Improving the interactions between the supply chain planning teams and the rest of the business has been the focus of attention for a major European manufacturer. Traditionally the planning role had been rather out of the spotlight and the communication with the commercial teams had become very one-sided.
In a bold learning programme technical content is combined with understanding both self and others in order to improve confidence and communication. The theme of the course is to inspire delegates with the idea that they should be statisticians, economists and diplomats in order to perform their role.
ICM was incorporated into the programme, to provide easily accessible insight into behaviours and reactions, along with a platform to explore effective, engaging dialogue rather than combative communication styles. The simplicity of the colours constantly enables delegates to engage rapidly with the drives, understand tensions and explore alternative approaches. ICM then provides a common "language" to explain, challenge and enhance relationships between individuals and departments.
Over 500 people later and going strong, this is still the most talked about course in the company!

>